Chaolin Yang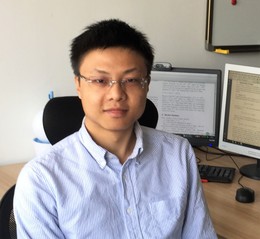 Chaolin Yang
Professor
Interests:
Supply chain management, random inventory control, data-driven operations management
Courses:
Dynamic programming, operation management
Office:
School of Information Management and Engineering 615
Tel:
021-65901447
Email:
yang.chaolin@shufe.edu.cn
Details
---
Dr. Yang is currently an assistant professor at Shanghai University of Finance and Economics. He received his B.S. in Mathematic and M.S. in Management Science and Engineering from Nanjing University in 2009 and 2011, respectively, and Ph.D. in Systems Engineering and Engineering Management from the Chinese University of Hong Kong (CUHK) in 2015. His main research interests are supply chain management, stochastic inventory control, data-driven operations management.
Dr. Yang has won the award of the "best student paper award" at the POM-HK International Conference in 2015.
He is currently the PI of a project "Inventory Management for Stochastic Multi-echelon Inventory Systems with Dual Delivery/Supply Modes", funded by National Natural Science Foundation of China, and has published several papers in top international journals like Operations Research.
He has participated in several research projects of China's leading enterprises.
Selected papers
---
Continuous-review (R, nQ) policies for inventory systems with dual delivery modes
with Sean X. Zhou
accepted by Operations Research. Second prize in POMS-HK Best Student Paper Competition, 2015.

Approximation Algorithms for Capacitated Perishable Inventory Systems with Positive Lead Times
with X. Chao, X. Gong, C. Shi, H. Zhang, Sean X. Zhou
under 3nd review (Minor Revision) at Management Science. Selected to present at 2016 MSOM Supply Chain Management SIG Conference.

Nonparametric Intertemporal Advertising Budget Allocation for Revenue Management with Inventory Constraint
under revision.